| | | | | |
| --- | --- | --- | --- | --- |
| | +234-703-382-3104, +234-806-729-6988 | editor@witicles.com | | |
Article Category >>>

Marriage





Marital Bliss: The Invisible Sight for Beauty & Honour in Marriage


By Gboyega Adedeji Mar 17, 2015




Marriage is an institution established by God for the establishment of God's will on the earth; and because no man invented it, no man can also dissolve or destroy it. The "best" any man or group can do with marriage is to describe it; and if your guess is like mine; they will only describe marriage to the proportion of their observations or experimentations. The point is, no man knows marriage like God; and no man's word should be a final one except God's.


As a result of the huge responsibility imposed by God on every marriage; God also made efforts to bless the marriage - invoking the power of productivity, reproductivity, increase, and influence on it. That is, every marriage instituted by God is a direct beneficiary of the power of God for productivity, reproductivity, increase and influence on the earth. That is the reason why every marriage in God is unstoppable on the earth. In fact, marriage is the agency of God for reflecting the image and likeness of God on the earth. And because of that, marriage is equally the work of God that has suffered attack from the powers of darkness the most.

Studies have revealed that broken marriages have resulted into broken lives of children and spouses. Children of broken homes have shown the greatest chance of reproducing the same brokenness in their own marriages. You see, when an inventor creates a thing; the best an imitator can do is to recreate the thing - and when they do; they often omit crucial components or sections of such things; therefore, resulting to the production of fakes in the market. The point is, the best the world system can do is to recreate marriage; and the effect of that is to have more fake marriages in our streets and cities.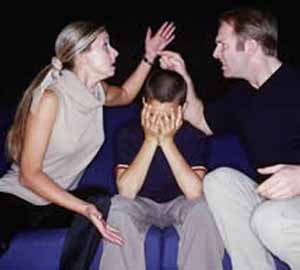 When God created marriage; He gave the couples the capacity for beauty and honour. Each couple beholds beauty and honour in themselves; thus, creating a continuous atmosphere for love and respect as enjoined by Apostle Paul in the book of Ephesians 5. Husbands loving their OWN wives; and wives submitting to (honouring) their OWN husbands. The world system forbids such; hence, every marriage recreated by the world system struggles to conform to the perfect pattern of beauty and honour. The word of God teaches that a man should love his wife; but the world system does not help him to know how; while the word of God teaches a woman to submit to her own husband, the world system tells her not to be a fool. Indeed, the world system struggles with the will of God.


There is beauty inside every woman; but you must think to discover it. Equally, there is honour inside every man; but only by thoughts can you know it. Therefore, the reason for your complete disregard for the beauty of your wife is not because she is not beautiful; but because you have refused to acknowledge that she is made in the image and likeness of God and that she is the only ONE duly fabricated, coated and placed to meet your needs as a ready and able helper. Once you remember who she is really, you will LOVE her.

Inside that man is honour; and the moment you remember that your birth was ONLY necessitated by his purpose or relevance on the earth; you would realize that he is the reason why you are still HERE! The purpose of God for every man is the reason why he lives; and the purpose of God for every man is the reason why every woman lives. Thus, when men cease to have a purpose for living; women will not be required. When those thoughts flow through your heart; then, you will find it easy and "natural" to honour or respect your OWN husband.

Woman, I know that you are truly beautiful; but that man is the reason for your beauty; why will you not honour that in his life? God took time to make you so attractive and sensitive; all in a bid to bring that man to you....will you not appreciate it and honour him? Will you not respect him for making your necessary?

Man of God, it is true that God brought you here for a purpose; it is true that you were built in such a powerful and authoritative manner so as to represent God effectively on the earth. However, you must remember to acknowledge that your existence or living is not yet complete without God's beauty on your work. The woman in your life is not there for fun, but for function; God has sent her to beautify your life and your works; wouldn't you love your OWN wife just as yourself?

When you do not have enough energy to love your wife; look into her eyes through this invisible sight of beauty, and your love for her will be rekindled year after year; and decade after decade. The same thing for women, the honour of your OWN husband is not negotiable, it is a necessity. Honour him and live!
| | | |
| --- | --- | --- |
| | 2318 | |
If you need to re-publish this ARTICLE, please cite this article - (https://witicles.com/marital-bliss-the-invisible-sight-for-beauty--honour-in-marriage-266.html) and the Writer (Gboyega Adedeji)
Do You Find This Article Helpful?
Article Tags:
marriage, marital bliss, blissful marriage, beauty, honour, husband, wife
Article Source
About Gboyega Adedeji
Gboyega Adedeji is an inspiring teacher and writer. He is committed strongly to the development of effective leaders across generations and denominations.
He is an author of many books, writer of many articles and coach of many leaders!
He leads at LeaderSoil
Social Sharing
If You Enjoyed This Article; Then, Share It On Your Social Network





Copy This Short Link To The Article: http://i.witicles.com/fg5Cs
Post Comment
Article Comments
No comment found! Be the first to share your thoughts on this article!
Related Articles