| | | | | |
| --- | --- | --- | --- | --- |
| | +234-703-382-3104, +234-806-729-6988 | editor@witicles.com | | |
Article Category >>>

Politics





2019 Presidential Election: Nigeria Is Once Again Stuck With The Bad And The Ugly


By Abiola Benjamin Obayomi Nov 15, 2018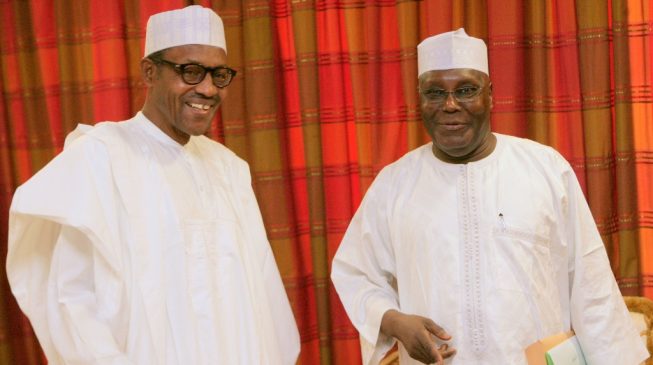 Nigeria has witnessed terrible leadership for decades. We have been unfortunate to have been led by the bad, the worse and if care is not taking, the worst may soon be upon us. It is disheartening that in the twenty first century, Nigeria is still grappling with the challenge of effective leadership. In the light of this, 31 Presidential candidates would be participating in the forth coming elections scheduled to hold in February of 2019. Many have argued that Nigeria's major problem is basically leadership at the Federal level. Like the popular saying, that when the head is faulty, then the whole body would feel its impact.
Since Nigeria isn't a true Federal State in reality, except on papers; the task of then moving the nation forward depends on whosoever is occupying Aso Rock per time. Most states in Nigeria are dependent on the federal government and on the crumbs that comes from there. Only few states like Lagos, can stand on its own if the centre isn't forthcoming. Apart from Lagos state, most Nigerian states cannot survive on the paltry they generate internally as revenue. Take for instance, the newly proposed N30,000 Minimum wage for Nigerian workers. Many state governors have come out to openly say they cannot afford to pay the said amount.
This is why most people believe today that if leadership at the federal level can be rock-solid, then Nigeria may record some progress in the years to come. Hence, the reason for everyone jostling to be the nation's number one leader. But with the way things are going currently, it seems the choice before Nigerians in this coming Presidential elections is that of choosing between two evils. It is the choice between the bad and the ugly.
By popular opinions, President Muhammadu Buhari is bad and should not be voted in for a second term. He is incompetent, and he has further taking Nigeria backward from where he took over from. Most Nigerians believed he has failed on most of his promises and because of that, he does not deserve to be re-elected. On the other hand, Atiku Abubakar is ugly and therefore does not deserve to be Nigeria's President. Most Nigerians said he is corrupt, and that he is one of the proponents and grandfather of corruption in Nigeria politics. His former boss, Olusegun Obasanjo is the great grandfather of corruption, and their duo led Nigeria for good eight years.
Come to think of it, Muhamadu Buhari and Atiku Abubakar are just two candidates out of a total 31 people that is going into the presidential elections, what about the remaining 29? Is it that we cannot boast of one out of them that can lead this nation? I have been privileged to speak with a number of people concerning the choices before us in this forthcoming elections, and the responses I get sometimes, are sickening to the bones and marrows.
Nigerians will tell you, the remaining 29 are not competent, they do not have experience, they don't have the political structure, and therefore; cannot win presidential election in Nigeria. Many even said some of the candidates don't have the financial acumen to win their way into Aso Rock. The argument back and forth is appalling and therefore have shown one thing, that Nigerians really are not ready to break free from this cycle of incompetent and corrupt politicians that have plagued this nation from making progress.
It is even more baffling, when I see young Nigerians who should know better defend some of these old political rogues. The same people many of them claimed have destroyed the nation, bastardised the health and the education sector, neglect infrastructural development for decades; these same people are the ones many Nigerian youths are campaigning for. In all of this, it only shows that we are not ready as a nation to be free. The one thing you should know is this, that whoever you choose to vote for between the bad and the ugly in 2019, will determine what happens in this nation for the next four years.
Think about your future and vote wisely.
Source: [Centre for New Dimension Leadership]
| | | |
| --- | --- | --- |
| | 221 | |
If you need to re-publish this ARTICLE, please cite this article - (https://witicles.com/presidential-election-nigeria-is-once-again-stuck-with-the-bad-and-ugly-24952.html) and the Writer (Abiola Benjamin Obayomi)
Do You Find This Article Helpful?
Article Tags:
Nigeria, Federal State, Muhammadu Buhari, 2019 Presidential Election, Atiku Abubakar, Nigeria
Article Source
About Abiola Benjamin Obayomi
Real Estate is my Profession. The change we need in Nigeria begins with all of us doing things differently. Collectively, we can make Nigeria work.

Social Sharing
If You Enjoyed This Article; Then, Share It On Your Social Network





Copy This Short Link To The Article: http://i.witicles.com/seGwr
Post Comment
Article Comments
No comment found! Be the first to share your thoughts on this article!
Related Articles