| | | | | |
| --- | --- | --- | --- | --- |
| | +234-703-382-3104, +234-806-729-6988 | editor@witicles.com | | |
Article Category >>>

Football





5 reasons why Sergio Ramos is not as good as he is made out to be


By Free Online Articles Editor Nov 18, 2018




Sergio Ramos is regarded as one of the best defenders of this era by many. Even the great Paolo Maldini said back in 2009 that Sergio Ramos will be the heir to his throne.
Eight years down the line, the Spain defender may have emulated – or even internationally exceeded – the great Italian former defender, the gulf in class between the two is quite staggering.
A few weeks ago, Liverpool defender Dejan Lovren claimed that the Real Madrid superstar is more prone to mistakes than he is but his flaws were overlooked because of match-winning goals by Ronaldo.
"If you look, Ramos, he has many more mistakes than me. But he's at Real Madrid. When you do a mistake, but you win 5-1, 5-2, nobody sees the mistake. You know what I mean," Lovren said.
And while it might sound ridiculous for Lovren to say this, he is actually right. And here are five reasons why that is the case…
#5 Not much improvement
Back in 2009, Sergio Ramos, still in his early 20s, was one of the most talented potentials in the game. He was plying his trade at right-back at the time but everyone knew that he would finish at center-back eventually.
And then after the arrival of Mourinho to Real Madrid, the Spain captain was shifted to the centre – mostly due to the lack of a proper partner for Pepe – and he has been there ever since.
Being a full-back is a lot different than being a centre-back. Full-backs, despite being defenders, can get away – and also be lauded – despite not being defensively sound (a la Dani Alves and Marcelo).
However, centre-halves don't have the same luxury. The Real Madrid captain was very defensively sound for a full-back but not as much for a central defender.
Ramos of then and now doesn't have much difference as he hasn't improved his defensive forte to the level that he was supposed to.
#4 Inability to deal with incisive passes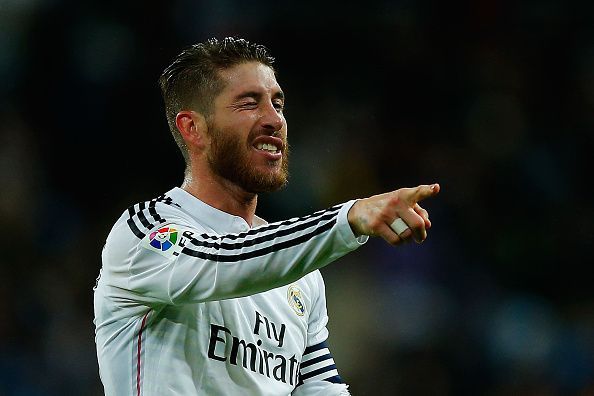 Ramos often gets befuddled while dealing with tricky passes
When Suarez scored his hattrick against Real Madrid, Ramos looked helpless as the Uruguayan lobbed the ball over Thibaut Courtois to score his third of the game.
The Spain and Real Madrid captain might have been far away from the former Liverpool forward at the time but it was once again his poor reading of the situation that let Suarez run free.
It was Julen Lopetegui's last game as the manager of Real Madrid and after that, Santiago Solari took over. Solari's first match was against lowly Spanish side Melila and Real Madrid came out winners quite comfortably in the end.
The Galacticos scored four goals and conceded none, which conveniently hid some glaring mistakes that Ramos made in that game.
There were some instances where he looked very uncomfortable when the opposition made a lobbed pass towards the striker in the former Sevilla man's zone.
A better team would have made use of Ramos' mishaps in that game and once again make his flaws apparent.
#3 Lapses in concentration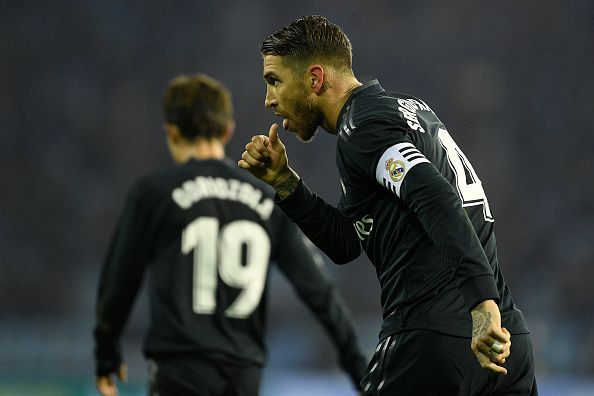 Ramos lacks concentration
This is truly an extension of the last slide itself. The reason why Ramos doesn't look comfortable against incisive passes from the opposition has two reasons.
One, he is not really a good judger of the weight of the pass – be it lobbed or drilled – and two, he lacks concentration.
In most matches against the big teams, he brings out his A-game and it becomes virtually impossible to beat him.
The only big team against whom he hasn't been able to show his superiority is Barcelona, but that is a story for another day.
Against the elites, he knows that the rival forwards will make use of the smallest of opportunities. As a result, he almost always shows a good level of concentration.
The problem, however, arises when he plays against mid-table or lower-table clubs. He is often caught in a lacklustre mode and even his passing goes awry, as seen multiple times while playing for Spain against Russia at the World Cup.
The worst part, however, is how easily he lunges out of his position and breaks the backline. This not only creates a gaping hole in defence but also puts Ramos' partner, usually Raphael Varane, in a lot of trouble.
#2 Goals hiding his flaws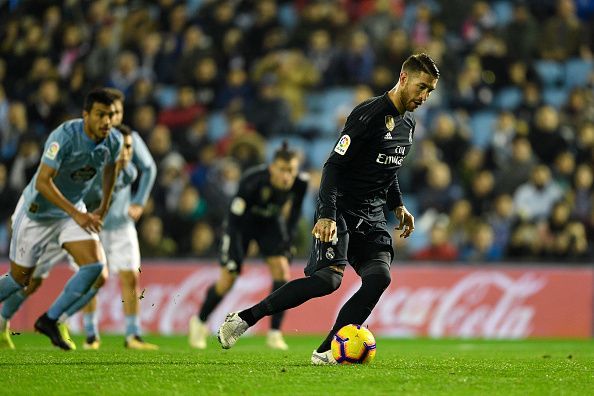 Panenka specialist
This is an asset that makes Sergio Ramos really special. His ability to find the net at crucial times makes him one of the most important scorers for the Galacticos.
At one point in time, scoring late for Madrid became the norm for the Spain defender. One can never forget how he scored at the very death against Atletico Madrid in the final of the Champions League in 2014.
It won Real Madrid the game and their first Champions League title in 12 years. It also earned him a lot of plaudits.
But that is exactly where the problem is. Sergio Ramos is often praised for the goals he scores. The former Sevilla star is a defender and his first and foremost job is to defend.
However, his scoring tendencies have made him a superstar, which sometimes hide the major flaws in his defensive game.
#1 Stats don't lie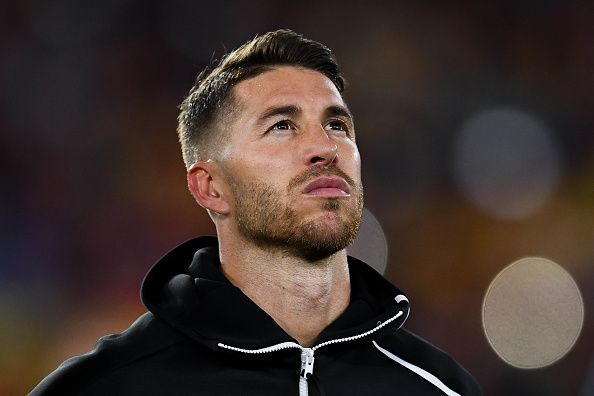 Madrid are better defensively without him
Someone wise once said something along the lines of 'stats are like undergarments, they reveal a lot of things but hide the most important parts.' This is a very true and correct analogy but it might just be a little incomplete.
Because while stats might hide the most important parts, it does give an indication of how those parts could be like.
In the context of Sergio Ramos, there are some simple stats that tell us a lot. Last season, Ramos missed 12 league games and Madrid conceded 13 times in those games (1.08 goals-per-game). With him, however, the Blancos conceded 31 in 26 games (1.2 goals-per-game).
In the season prior, Madrid was without Ramos for 10 league games and conceded only six times in his absence (0.6 goals-per-game). In his presence, however, the Galacticos let in 35 goals from 28 games (1.25 goals-per-game).
So, statistically, Madrid do better in defence when Ramos doesn't play – and that is no surprise at all.
What Dejan Lovren is doing now stems from nothing but pure jealousy. After all, when it comes to being decorated, the Croat is not even fit to lace the Spaniard's boot.
However, a part of what Lovren claims is absolutely true. Ramos makes a lot of mistakes and is not as good as many make him out to be.
The most frustrating part is that he does have the potential to be the best – that becomes apparent when he plays against the big sides and is at the top of his game; he is simply unbeatable in those situations – but his inconsistency and erratic nature make him more of a liability.
Source: [Sportskeeda]
| | | |
| --- | --- | --- |
| | 242 | |
If you need to re-publish this ARTICLE, please cite this article - (https://witicles.com/reasons-why-sergio-ramos-is-not-as-good-he-made-out-to-be-24954.html) and the Writer (Free Online Articles Editor)
Do You Find This Article Helpful?
Article Tags:
5 reasons why Sergio Ramos, is not as good as, he is made, Real Madrid Player, Sergio Ramos, Football, La liga
Article Source
About Free Online Articles Editor
We challenge the minds of people towards mental and attitudinal shift and National transformation. We are the Editorial team of Witicles.com & Witicles.com.ng. Promoting knowledge for all!
Social Sharing
If You Enjoyed This Article; Then, Share It On Your Social Network





Copy This Short Link To The Article: http://i.witicles.com/G1TlD
Post Comment
Article Comments
No comment found! Be the first to share your thoughts on this article!
Related Articles