| | | | | |
| --- | --- | --- | --- | --- |
| | +234-703-382-3104, +234-806-729-6988 | editor@witicles.com | | |
Article Category >>>

Football





Sergio Romero reveals what Lionel Messi and Anthony Martial have in common


By Gboyega Adedeji Nov 03, 2018




What's the story?
Manchester United goalkeeper Sergio Romero has spoken about the similarities between teammate Anthony Martial and Argentina and Barcelona ace Lionel Messi.
In case you didn't know...
Romero has rubbed shoulders with both players as he has played alongside Messi for Argentina and with Martial at United.
The goalkeeper had first made acquaintances with Martial while on loan at Monaco from Sampdoria during the 2013/14 season. He then moved away from Sampdoria to Manchester United in July 2015.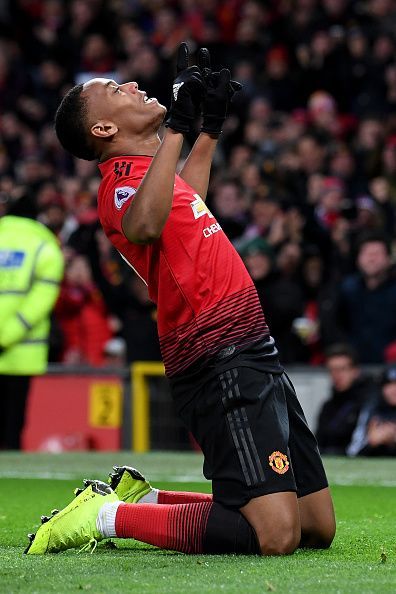 Manchester United v Everton FC - Premier League
The heart of the matter
In an exclusive interview with Manchester United's official website, Romero has drawn comparisons between the two players and has revealed the one thing that Martial has in common with five-time Ballon d'Or winner Messi.
Speaking with United's website, the goalkeeper said, "He really is one of the best I've seen. I think that the only player in the world, or who I've seen, running with the ball as if it's stuck to his foot, is Leo Messi."
"He can be going at top speed and the ball is always right on the end of his foot, it never gets far away from his control. That's why he can do all the things he does."
"But the thing that Anthony has which is quite similar is when he is running at top speed, he can stop the ball absolutely dead, in a split-second."
"That is the same as what Messi does. Leo will be running with the ball, on a mazy dribble, and then all of a sudden he'll stop suddenly and change pace or change speed, or go the other side."
Martial moved to Manchester in the same year as Romero for a £58 million ($75m) fee.
Video
What's next?
While Manchester United will go head-to-head with Bournemouth today, Barcelona are set to face Rayo Vallecano.
Source: [Sportskeeda]
| | | |
| --- | --- | --- |
| | 257 | |
If you need to re-publish this ARTICLE, please cite this article - (https://witicles.com/sergio-romero-reveals-what-lionel-messi-and-anthony-martial-have-in-common-24924.html) and the Writer (Gboyega Adedeji)
Do You Find This Article Helpful?
Article Tags:
Sergio Romero ,reveals what, Lionel Messi,Anthony Martial, have in common
Article Source
About Gboyega Adedeji
Mentored By Jesus Christ | Writer | Inspiring Speaker | Publisher | Coach | Builder | FOUNDER @ Fridayposts, Hubpile, Witicles| President/CEO at Centre for New Dimension Leadership | Entrepreneur | Husband & Father. Engaging me will change you!
I am a Nigerian and an Ambassador of Christ sent to Nigeria for the cause of His Kingdom. By divine-making, I read, teach and speak. I am a Dad to my children and a husband to my lovely wife Omolara. Simply, I am a Writer, Teacher, Coach, Leadership Developer, Conference Speaker and Publisher among others. I am a Creative Managing Partner at kpInspirationals, a media outfit based in Abuja. For more about me, Visit my profile page on Webnigerians, Twitter, Facebook and LinkedIn
Social Sharing
If You Enjoyed This Article; Then, Share It On Your Social Network





Copy This Short Link To The Article: http://i.witicles.com/c1W3g
Post Comment
Article Comments
No comment found! Be the first to share your thoughts on this article!
Related Articles