| | | | | |
| --- | --- | --- | --- | --- |
| | +234-703-382-3104, +234-806-729-6988 | editor@witicles.com | | |
Article Category >>>

Football





4 step explanation of how Arsenal's 3-4-3 formation under Unai Emery works


By Free Online Articles Editor Dec 05, 2018




After the end of a 22-year reign under Arsene Wenger, Arsenal has had a fresh breath of hope under new manager Unai Emery. The Spaniard has slowly been able to build his tactics using the personnel required, and stamped his identity on the North London football club.
Along with his spontaneous changes and his mentality to win every game, his risk-taking abilities haven't gone unnoticed. He is not afraid to drop players he feels will not suit a particular system he wants to play.
This was evident when Arsenal's highest paid player, Mesut Özil, was dropped during their visit to the Vitality Stadium. Emery responded to the questions over his starting line-up by saying it was a highly intense and physical game, and he had to drop Mesut for the best chances of winning.
A notable change which has been employed by Arsenal in recent weeks is the use of a three-man defence. With a highly criticised defence, Arsenal has often been on the receiving end of many goals.
Playing a three-man defence has allowed the defenders to play with more freedom whilst performing their defensive duties. However, unlike Arsene Wenger's 3-4-3 formation which was mostly due to the pressure of having some change at the club, Emery's 3-4-3 is much more dynamic and has a stronger tactical skeleton around which the team can build.
In this article, I will point out the characteristics of the 3-4-3 formation being used, and highlight the impact it has had on the pitch. But first, let us have a look at the formation.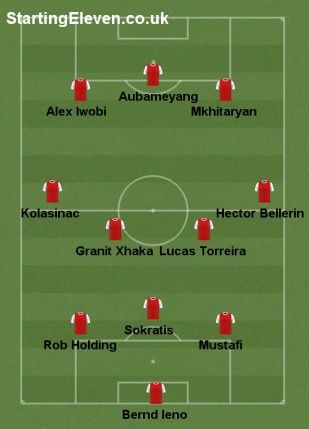 The 3-4-3 formation Arsenal have played the previous two games
#1 A much more energetic press
As seen in the first twenty minutes of the game against Tottenham, Arsenal seem to have a much more energetic and hungry approach to games.
Unlike games under Arsene Wenger where Alexis Sanchez would bolt up and down to press, only to raise his hand in dismay when he realises that the rest of the team have not joined him, the press under Emery is much more efficient and aggressive.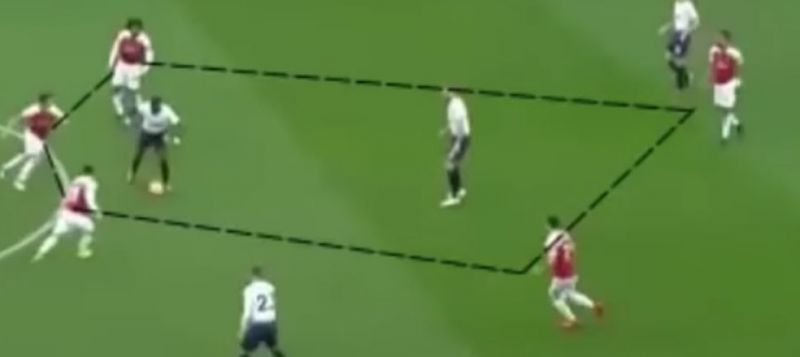 An example of the counter press employed by Arsenal as they immediately hunt down Sissoko
The press is a mix of the traditional press on the back-line when the opposition has possession in their own half, and the German gegenpress or counter-press. This style of pressing was very hard for Tottenham to deal with, as they were set up in a more compact fashion, and didn't have any real outlay to play the ball over the press.
Pochettino heavily relies on his fullbacks for width, but as Arsenal played a 3-4-3, the fullbacks couldn't commit forward as it would leave ounces of space for potentially three players to attack.
This space was exploited by Arsenal as they would often switch sides whenever they recognised an overload on a particular side from Tottenham. The only real chances Tottenham got were when they played the ball over Arsenal's high defence line, which brings me to my next point.
#2 High defence line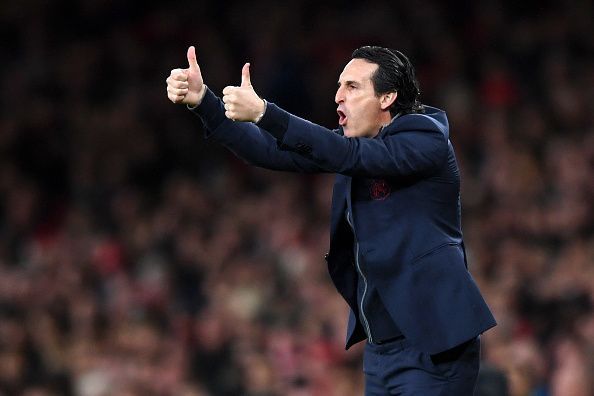 Emery does not allow more than 15-20 metres of space between the 3 lines of players
To accompany a press which is able to press till the goalkeeper, there always needs to be a high defence line to ensure that the opposition doesn't get a lot of space in midfield. Emery follows a simple philosophy of not having more than 15-20 metres of space between the three lines of players i.e the defence, the midfield, and the forwards.
While Sokratis sits a bit deeper, Mustafi and Holding are able to get more forward and play through balls as well as win headers before they even reach their own half.
Although this means that the defence is susceptible and wide open to attacks on the transition, it provides many advantages going forward. The ball-playing ability of Holding and Mustafi allows Arsenal to quickly switch play when the central midfield partnership of Torreira and Xhaka are unable to find space.
As seen against Tottenham, and to a certain extent Bournemouth, these switches have proven to be pivotal in starting attacks for two reasons - the sheer pace and ability to drive in via the wing backs Kolasinac & Bellerin, and the efficient overloads made in wide areas.
#3 Overloads on the flanks
When Conte introduced the 3-4-3 in England, many fans were skeptical over whether the formation could work. But seeing how a 3 man defence prevailed throughout the league, the formation ended up being a huge success.
The main reason behind this success is that the midfielder in a more advanced position is not always able to track back. This left the fullbacks occupied with two Chelsea players on their side. This advantage in numbers allowed Chelsea to play quick football via the width, and provide delivery to the dangerous Diego Costa.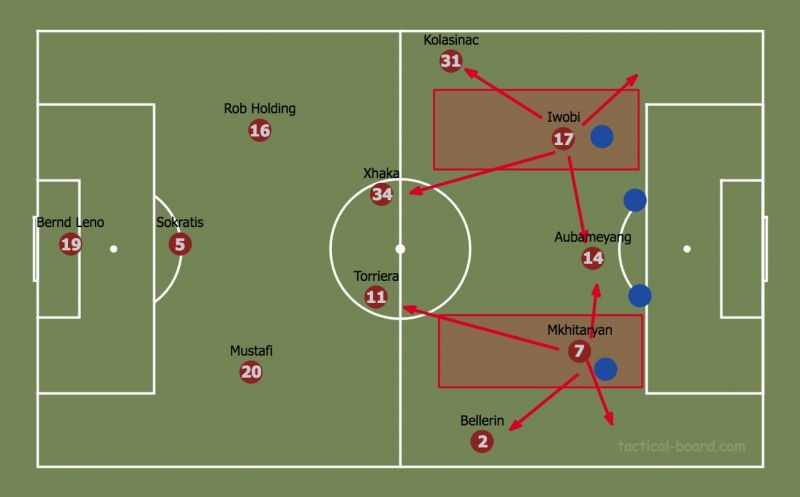 This shows the spaces Mkhitaryan and Iwobi occupy to attract the opposition's full-backs
Emery's 3-4-3 has a similar effect on 4-man-defences. With the pace of Kolasinac and Bellerin, Arsenal is easily able to move the ball up and down the flanks. Emery has used Alex Iwobi and Mkhitaryan to great effect here, wherein they occupy the half spaces between the fullback and the centre back.
This allows them to connect with at least 4 or 5 players at one time, and distract the opposition's full-backs, giving space to their own wing backs. While Mkhitaryan has struggled with form, Iwobi has easily adapted to this role, and has been a prolific player for Arsenal this season.
#4 Versatility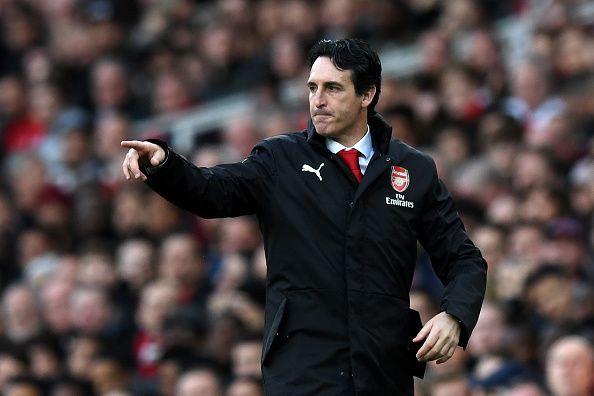 The 3-4-3 formation has given Emery more flexibility to make changes
Another key highlight of this formation has been the sheer versatility it has shown. Emery has often noticed certain flaws in his tactics, and has made several spontaneous substitutions at halftime.
The most noticeable was his decision to bring on Ramsey and Lacazette for Iwobi and Mkhitaryan during the North London derby. While the formation now changed to the shape of a 3-5-2, the basic tactical foundation of the formation remained the same. Except only now Aaron Ramsey occupied the space left between centre backs by Tottenham.
This has been a recurring problem for Tottenham this season, and Eric Dier has often had to fill in this gap. But Eric Dier is not a natural defender, and cannot cope with the pace of Arsenal's attack. This saw Aaron Ramsey beautifully set up two goals, and Arsenal run away as 4-2 winners.
The formation has allowed Emery to make several such changes to the team when he feels they are not performing well. The Spaniard isn't afraid to make changes early, and brings on players who he feels can provide more to the game.
The 3-4-3 formation has given Emery more flexibility to make these changes, giving the team a few minor tweaks to win games.
Overall, the formation has allowed players like Kolasinac, Iwobi, Aubameyang, Torreira, and Rob Holding come alive this season, and produce world-class performances. It will be interesting to see how Emery deals with the return of Mesut Özil, and if he will change his formation to accommodate the German.
Arsenal faces Manchester United at Old Trafford next, and will hope to exploit the absence of Ashley Young with this approach. Aaron Ramsey will most likely take the place of suspended Granit Xhaka, which will provide more drive and a more aggressive press against a United side happy to sit back and defend.
Source: [Sportskeeda]
| | | |
| --- | --- | --- |
| | 296 | |
If you need to re-publish this ARTICLE, please cite this article - (https://witicles.com/step-explanation-of-how-arsenals--formation-under-unai-emery-works-24975.html) and the Writer (Free Online Articles Editor)
Do You Find This Article Helpful?
Article Tags:
4 step explanation,how Arsenal's 3-4-3 formation under Unai Emery works, Unai Emery, Arsenal Team
Article Source
About Free Online Articles Editor
We challenge the minds of people towards mental and attitudinal shift and National transformation. We are the Editorial team of Witicles.com & Witicles.com.ng. Promoting knowledge for all!
Social Sharing
If You Enjoyed This Article; Then, Share It On Your Social Network





Copy This Short Link To The Article: http://i.witicles.com/1Rmbf
Post Comment
Article Comments
No comment found! Be the first to share your thoughts on this article!
Related Articles