| | | | | |
| --- | --- | --- | --- | --- |
| | +234-703-382-3104, +234-806-729-6988 | editor@witicles.com | | |
Article Category >>>

Real Estate





Steps to Concluding an Online Real Estate Transaction


By Abiola Benjamin Obayomi Dec 04, 2015




There is practically nothing that cannot be done online nowadays. The whole world as it is has been reduced into a global village, thanks to technology anyway. People buy all manners of stuffs online. As a matter of fact, one does not need to go to the physical market to get stuffs. At the comfort of your living room, with your phone or your personal computer connected to the internet; one can simply order for any product- ranging from food stuffs, to electronics and what have you. One of the advantages of buying online is that it saves time and sometimes reduces cost and the stress of having to appear in our conventional physical markets to pick these products. It is not as if there are no disadvantages of buying online too, but the merits appear to outweigh its demerits.
My focus in this article is how to conclude real estate transactions online without being scammed or not getting value for your money. There have been several occasions where people pay for property online and end up not satisfied with what they saw on ground. A whole lot of times, picture could be highly deceptive. Mere looking at a picture of a house online does not mean the house will be perfect. This same thing applies to other products too that are not houses. I have heard stories of people who purchased gadgets and electronics online, and after few days of use; the products packed off. The truth of the matter is this; the online platform through which you purchased some of these products usually will not be liable for any defects, simply because they are not the ones that manufacture these products. So, upon sighting a house that you are interested in purchasing online, the following steps must be taken:
Go inspect the property. This is usually the starting point. Remember you only saw the property online and you fell in love with it. What you saw in the picture might not actually be the reality on ground. Occasionally, it is the best part of a product that is always displayed online. What if there is a crack somewhere at the back of the building, the picture will not show you this online, or what if the roof is leaking somewhere.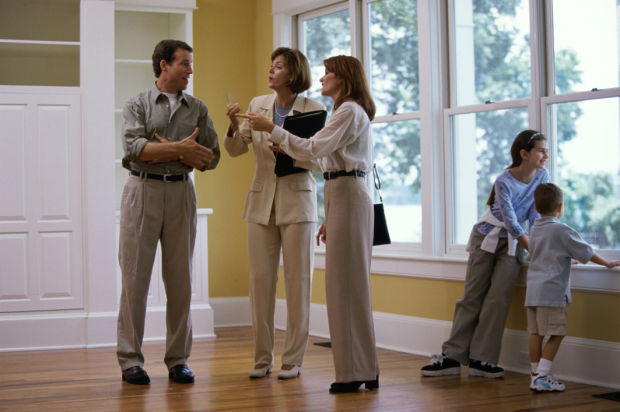 This is why physical inspection is a very important step before even thinking of making payment. If you find a serious problem with the house during the inspection, you will have all the opportunity to simply back out of the deal or better still, ask the seller to fix it or pay for you to have it fixed. In doing this, you will require the services of a building professional who can inspect the property in details, and be able to bring out structural defects that you the buyer might not be able to see or have knowledge of. Either an Estate surveyor and valuer, or an architect or better still, a builder would be just perfect at this stage. These professionals have been trained to know and understand the language of building.
Do title verification. It is not impossible that a house may not possess the necessary title or documents. The following documents should be adequately verified before you proceed into the payment stage: receipt of the land upon which the house is located, approved survey plan, approved layout, power of attorney, deed of assignment and certificate of occupancy. A thorough title verification provide peace of mind and a legal safeguard so that after you have purchase the said property, no one else can try to claim it as theirs later. Usually, your lawyer can help in ensuring that these titles are genuine and authentic. He will ensure that there is no court case on the title or better still, a third-party claims that could call into question or invalidate your ownership of the said property after you might have purchased it. If perhaps there exist any case any problem or problems, they will need to be adequately resolved before the property becomes yours.
Make payment. This is the next step after the property might have been inspected and proper title documentation verified. There are several ways in which payments can be made, but since the property was found online, payments is better made also online through transfer. As a matter of fact, our society runs a cashless property. Paying for a house could run into some millions and this is not advisable that such transactions be executed with cash.
Sign the documents. The deed is probably the most fundamental document that exists in a real estate transaction. It is essentially the final step that solidifies any real estate transaction when transferring a property from one person or entity to another. After all is said and done, the ultimate definition of who owns a property all comes down to what is contained in the deed.
This single document is the item that almost everything else in real estate transaction revolves around. It entitles an owner to their property, conveys property rights from one person to another, defines and upholds one's ownership in a piece of real estate in accordance with its local governing body. When a real estate transaction is closed, this document will be signed and endorsed by the seller and then recorded at the appropriate lands and housing authority that the subject property has changed hands.
Thank you for reading.
| | | |
| --- | --- | --- |
| | 2876 | |
If you need to re-publish this ARTICLE, please cite this article - (https://witicles.com/steps-to-concluding-an-online-real-estate-transaction-23756.html) and the Writer (Abiola Benjamin Obayomi)
Do You Find This Article Helpful?
Article Tags:
steps to concluding a real estate transaction, closing deals, closing real estate deals, selling properties, sell real estate online, Abiola Obayomi
Article Source
About Abiola Benjamin Obayomi
Real Estate is my Profession. The change we need in Nigeria begins with all of us doing things differently. Collectively, we can make Nigeria work.

Social Sharing
If You Enjoyed This Article; Then, Share It On Your Social Network





Copy This Short Link To The Article: http://i.witicles.com/q8A0F
Post Comment
Article Comments
No comment found! Be the first to share your thoughts on this article!
Related Articles