| | | | | |
| --- | --- | --- | --- | --- |
| | +234-703-382-3104, +234-806-729-6988 | editor@witicles.com | | |
Article Category >>>

Football





Top 4 is definitely achievable for Unai Emery and Arsenal


By Gboyega Adedeji Oct 24, 2018




After the opening two matches in the Premier League this season, the easy conclusion to come to was that this is a transitional season for Arsenal under the new management of Unai Emery.
The defeats to Premier League champions Manchester City and Chelsea respectively were overly-criticized and the fans of the club, and experts, were very quick to say how nothing has changed at the Emirates and that it looked the same Arsenal team from the last few seasons under the management of Arsene Wenger.
Ten games later and ten wins in all competitions and this opinion has changed dramatically.
The upturn in results and importantly the performances have been met with optimism among the supporters, with Arsenal only two points off the Premier League leaders Manchester City. The run that Arsenal has been on, has to be credited to the new manager Unai Emery and how he has set his team up in certain games.
The club went slightly under the radar, picking up win after win and with the competitiveness of the Premier League each win deserves praise no matter who they are playing against. They have managed to pick up wins from games when they were not at their scintillating best, notably the home wins against Everton and Watford respectively, where they gave up a vast number of chances to the opposition.
The Europa League has not been an issue either for Emery and his players, almost using the competition thus far to bring a level of positivity and enthusiasm among everyone involved at the Emirates. The away win to Qarabag FK was a mark of how together they are, squad players stepping up and gaining confidence with the possibility of challenging for a first-team position regularly.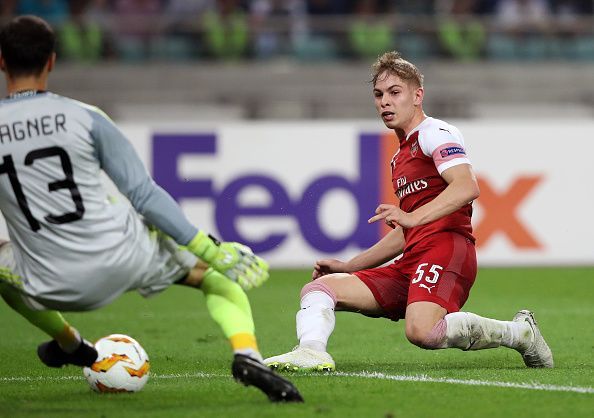 Qarabag FK v Arsenal - UEFA Europa League - Group E
Danny Welbeck, Emile Smith Rowe and Mohamed Elneny have stood out for the team in Europe as they look to make a case for regular first-team action.
The upcoming fixture in this Europa League campaign will be the biggest test yet for this Arsenal team, travelling to Portugal to face Sporting. Currently in 5th position in the Primeira Liga, the Portuguese team boast the same record in Europe as Arsenal - two games, two wins. They have quality in this team with current Portugal international Bruno Fernandes, Nani, the highly rated 20-year-old Jovane Cabral and the lethal Bas Dost.
Arsenal will need to be careful against this Sporting team to achieve a win at the Estádio José Alvalade and some of the bigger players might just be involved from the start.
The fixture against Liverpool in over a week's time will be the match where we could see just how far this Arsenal team has come since the opening two weeks of the season. Can they get past Crystal Palace in the next Premier League fixture to maintain their winning run and go into that fixture at home to Liverpool with full confidence?
It will be difficult but the way Emery has this Arsenal team playing it is very possible. The inclusion of Lucas Torreira is making such a big difference for this team, especially defensively. He covers a lot of ground in the center of the pitch for the team and protects his central defenders very well.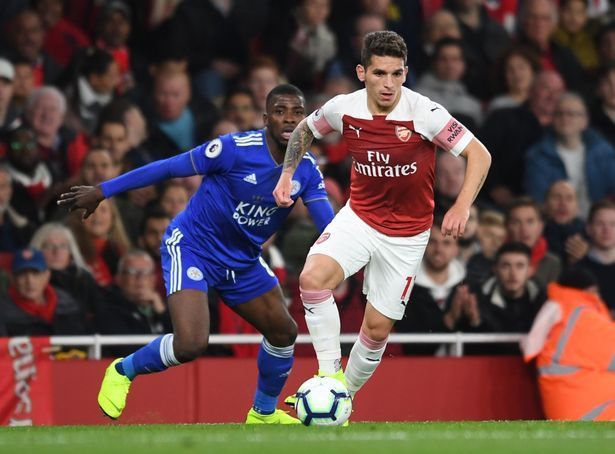 Lucas Torreira has tightened Arsenal up defensively from the center of the pitch
This could be the area though that could see the aim of a top 4 finish disappear for this Arsenal group. Despite playing tremendous football in the final third with all the flair forward players in good form and full of confidence, defensively they still look vulnerable.
Rob Holding and Mustafi would not be the most solid of partnerships for a team challenging for the Premier League. Left back is proving a real problem position for the team, with the fitness of both Nacho Monreal and Sead Kolašinac under scrutiny, and there have been rumours of Emery looking for a new left back come January in the form of out of favor Liverpool left-back Alberto Moreno.
The final third is where Arsenal look at their best, this has been the case for the last decade or so at the Emirates, but with Mesut Ozil, Alexandre Lacazette, Pierre-Emerick Aubameyang and Alex Iwobi they look a real handful for opposition defenses right now.
Iwobi has been somewhat of a revelation thus far this season, he is playing the best football of his career since breaking into the first team squad at the Emirates and is brimming with confidence. If the Nigeria international can add further goals to his game then he could be a real force and cement a first-team place in this team.
Emery is adapting his system and tactics to games as they come, playing in a 4-3-3, a 4-2-3-1 and even with a back three on occasion, and he is getting the rewards right now.
Finishing in the top 4 of the Premier League will be a major achievement should Emery lead this Arsenal team to this objective in his first season. Can they mount a title challenge? That would be unlikely at this stage however if they beat Liverpool at home this might breath fresh confidence into the squad that perhaps they could.
Manchester City still look head and shoulders above the chasing pack of the Premier League so the main challenge at the top of the Premier League might just be finishing in a top 4 position again.
With the form of Manchester United and the problems surrounding the club right now, Arsenal could certainly surpass them into the top 4, but can they get ahead of North London rivals Tottenham? Can they out-muscle Chelsea? Can they move beyond a Liverpool team who are expected to be the closest challengers to Manchester City for the league?
They need to believe they can as both Liverpool and Tottenham are not playing at their very best especially in the final third, however they are grinding out results.
This is how we could determine if this Arsenal team can get into the Champions League places: can they get results when they do not play well?
Source: [Sportskeeda]
| | | |
| --- | --- | --- |
| | 255 | |
If you need to re-publish this ARTICLE, please cite this article - (https://witicles.com/top--is-definitely-achievable-for-unai-emery-and-arsenal-24920.html) and the Writer (Gboyega Adedeji)
Do You Find This Article Helpful?
Article Tags:
Top 4 is definitely achievable for Unai Emery and Arsenal , Top 4,definitely achievable, Unai Emery, Arsenal , Premier League
Article Source
About Gboyega Adedeji
Mentored By Jesus Christ | Writer | Inspiring Speaker | Publisher | Coach | Builder | FOUNDER @ Fridayposts, Hubpile, Witicles| President/CEO at Centre for New Dimension Leadership | Entrepreneur | Husband & Father. Engaging me will change you!
I am a Nigerian and an Ambassador of Christ sent to Nigeria for the cause of His Kingdom. By divine-making, I read, teach and speak. I am a Dad to my children and a husband to my lovely wife Omolara. Simply, I am a Writer, Teacher, Coach, Leadership Developer, Conference Speaker and Publisher among others. I am a Creative Managing Partner at kpInspirationals, a media outfit based in Abuja. For more about me, Visit my profile page on Webnigerians, Twitter, Facebook and LinkedIn
Social Sharing
If You Enjoyed This Article; Then, Share It On Your Social Network





Copy This Short Link To The Article: http://i.witicles.com/4NlA1
Post Comment
Article Comments
No comment found! Be the first to share your thoughts on this article!
Related Articles