| | | | | |
| --- | --- | --- | --- | --- |
| | +234-703-382-3104, +234-806-729-6988 | editor@witicles.com | | |
Article Category >>>

Self Improvement





Tribulation: The Experience That Shifts You To Your Next Level


By Abiola Benjamin Obayomi May 19, 2017




The word 'tribulation' sounds kind of harsh, isn't it? Before I took an in-depth study on the word, I used to take it to mean something that is very grievous – an experience that is very difficult to survive sometimes. I had solely relied on the word Jesus said to His disciples that in this world, you shall have tribulations, but be of good cheer, I have overcome the world. So, I had assumed it has to be the kind of experiences that the apostles had - been locked up in prison unjustly, been beaten at sometimes and all of that. But an experience had made me check the dictionary meaning of the word and then found out that, while it included all of those things I had said earlier; there is a milder, not-too-harsh kind of meaning that it connotes.
For instance, Merriam Webster says it could mean "a trying experience" e.g., the trials and tribulations of starting a new business. It then means that whenever you are going through an unpalatable experience, we could refer to it as tribulation. Please pardon me; I never saw it that way before now; I used to think it is a word exclusively for the disciples of Jesus. But in short, there is an end product to such an experience. I read in Romans 5:3 that there is an attitude that one should have during such an experience. And believe me; this is where a lot of people miss it today. What do you do when you are going through such trials or tribulations or experiences? Apostle Paul said "…but we glory in tribulations…"
Come to think of it, how do you go about doing such a thing – glorying in tribulation? I don't know how many people can really pull that through. In other words, what the apostle was saying is that irrespective of the experience – whether you just lost your job, or you just lost a huge business contract, or you probably do not have money to feed, or maybe, your kids have been sent away from school because of not being able to pay their school fees; or probably, your landlord had just ejected you from your apartment because your rent is due and you had not paid; the apostle said "glory" in it. How do we do it? Is it possible? Of course it is! Apostle Paul would not have said that if it were not possible.
There is an end to tribulation that the apostle wanted us to see other than the present experience. You see, the present experience can be so overwhelming that it would drift your attention away from what is ahead of you. That is what the devil does, and that is what he is still doing. He wants you to be so much engrossed with the challenges you are facing right now so that he can shifts your attention away from the promise that God has for you. See the way 2Corinthians 4:17 puts it:
"For our light affliction, which is but for a moment, is working for us a far more exceeding and eternal weight of glory"
There is a glory ahead after such experience and the devil does not want you to see it. So, he wants you to continue to be overwhelmed by this "light affliction" as the scripture above rightly explains. According to that Roman 5:3, the trying experience is meant to produce something in you; and one of them is perseverance. Perseverance has defined by Merriam Webster says "the quality that allows someone to continue trying to do something even though it is difficult." Did you see that? What have you been finding hard to do or accomplish? What are you about to give up on – your dream, your goals in life? Perhaps you have written that exam a couple of times and have failed, and the devil is telling you to give up! You don't have to listen to the devil, give it a try once more. Are you struggling with that business, has your ministry not been fulfilling what it should be fulfilling – perseverance says, you should not give up.
As you persevere, that Scripture says one other thing is formed in you: 'Character'. To be sincere with you, character is everything. What your character would do for you when going through a trying time is that it would re-shape the way you think, feels and behaves. Your character will keep you in check and position you to be positive irrespective what you are going through at that moment. When your character is being examined and then found intact, then what you will begin to see is hope. No matter how terrible the experience may be or appear, there will always be hope at the end of the day. Committing suicide or looking for a way to end one's life is not the way to escape tribulation. Those who engage in such acts have completely allowed the devil to drive their minds crazy during such trying times.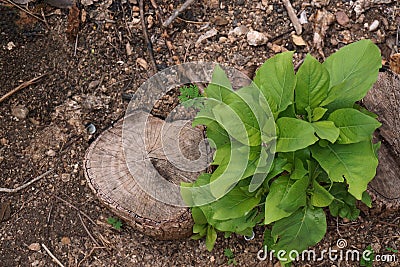 There is hope for a tree, for if it is cut down, it shall rise again. There is absolutely no situation that is devoid of hope, it is just that many people have mismanaged their tribulation and then their lives ended up in crisis. Now get this straight! Jesus said in this life, you shall have tribulations, but be of good cheers because I have overcome the world (John 16:33). There is nothing and absolutely nothing that Jesus hasn't overcome for you. When he was done with them he simply said "it is finished". All you need is just the right attitude during those trying times, and you would simply see yourself coming out of it.
I hope this article has blessed you. Don't forget this! There would be tribulations, but watch out for how you would handle them. Persevere, put up a good character and then hope will appear from it all. Thanks for reading.
| | | |
| --- | --- | --- |
| | 1150 | |
If you need to re-publish this ARTICLE, please cite this article - (https://witicles.com/tribulation-24647.html) and the Writer (Abiola Benjamin Obayomi)
Do You Find This Article Helpful?
Article Tags:
Tribulation,challenges of life, Difficult situations, how great character is formed, Witicles
Article Source
About Abiola Benjamin Obayomi
Real Estate is my Profession. The change we need in Nigeria begins with all of us doing things differently. Collectively, we can make Nigeria work.

Social Sharing
If You Enjoyed This Article; Then, Share It On Your Social Network





Copy This Short Link To The Article: http://i.witicles.com/ZKOaN
Post Comment
Article Comments
No comment found! Be the first to share your thoughts on this article!
Related Articles